Wheatley Vodka Sweet Tea Mint Julep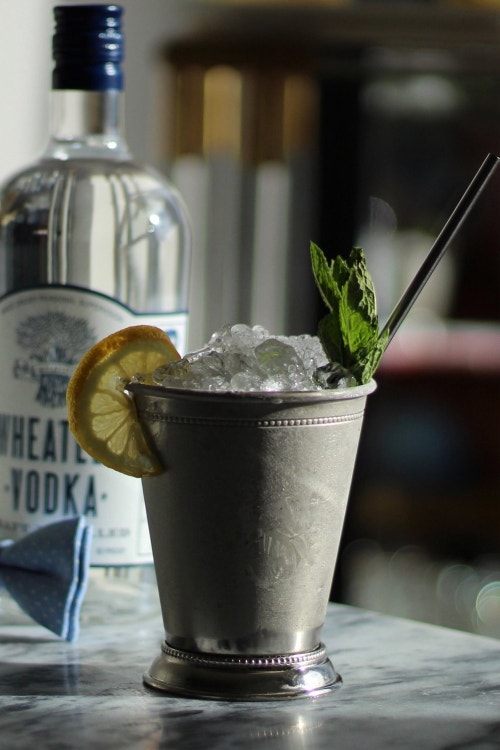 Ingredients
2 oz Wheatley Vodka
.5-1 oz Sweet Tea syrup
Finely cracked or pebble ice
Fresh mint
Directions
Pack a glass 3/4 full of ice
Pour in 2 oz of Wheatley Vodka and .5-1 oz of syrup (depending on sweetness preference)
Stir the julep for 15-20 seconds with a straw
Leave the straw inserted, and pack the rest of your glass full of ice
Select a sprig of mint then "spank" it across the back of your hand to release the oils before inserting it next to the straw (you want to be able to smell it as you drink)
Garnish with fruit, and wait an additional minute for frost to form
Enjoy
Sweet Tea Syrup Ingredients
1 cup of sugar
1 cup of water
3 Early Grey tea bags
1 bunch of mint leaves
Sweet Tea Syrup Directions
First, bring your cup of water to a boil and gradually stir in sugar.
Next, reduce heat and add the tea bags.
Lightly simmer the tea for 3 minutes (to taste) stirring occasionally (do not let the syrup boil and burn).
Remove the tea bags and add the mint and reduce heat to a very low simmer for an additional 5 minutes.
Turn off heat and allow the mixture to sit for another 5 minutes before straining out the mint leaves.
Finally, allow the syrup to cool to room temperature before putting it in an airtight container and refrigerate.
Syrup should be used within 5-7 days.