Wheatley White Apple Sangria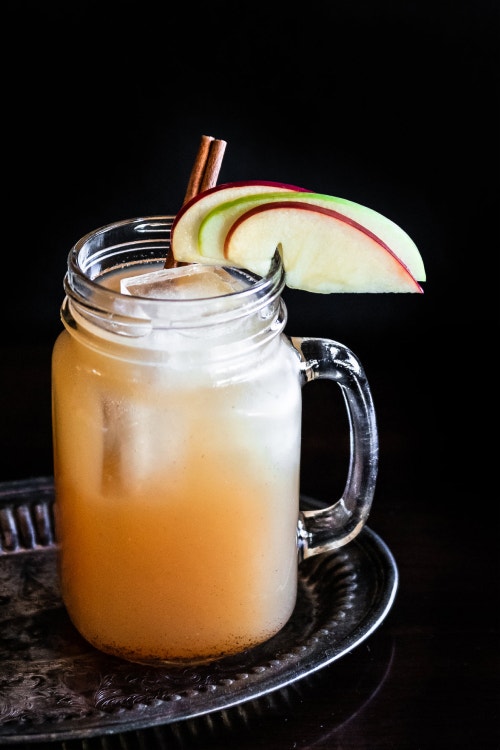 Ingredients
1.5 ounces (45 ml) Wheatley Vodka
3.5 ounces spiced sangria
Red and green apple slices, for garnish
Cinnamon stick, for garnish
Directions
Fill an old-fashioned or collins glass with ice, then add vodka and sangria and stir.
Garnish with apple slices and a cinnamon stick, serve, and enjoy!
Apple slices turn brown quickly. To prevent this, dip the slices in a bowl of lemon juice immediately after cutting.
Spiced Sangria Ingredients
1 cup (237 ml) dry white wine
5 cups (1.2 L) unfiltered unprocessed apple juice
1 cup (237 ml) pulp-free orange juice
2 tablespoons + 2 teaspoons (36 g) brown sugar
2 tablespoons + 2 teaspoons (40 ml) orange liqueur
1/4 teaspoon ground allspice
1/8 teaspoon ground cinnamon
1/8 teaspoon ground cloves
2 cinnamon sticks
1/2 green apple, cored and chopped
1/2 red apple, cored and chopped
Spiced Sangria Directions
In a pitcher, combine the white wine, apple juice, orange juice, brown sugar, orange liqueur, allspice, ground cinnamon, and ground cloves.
Stir or whisk until the spices are dissolved with no clumps remaining.
Add the cinnamon sticks, whole cloves, and chopped apples, and stir to combine.
Cover and keep refrigerated until ready to serve, up to 24 hours.
Created By